Cleaning parts to meet industry requirements and prolong the life of a part is critical to your success. Ultrasonic cleaning is one of the ways KVF Quad helps clients obtain this level of quality with their parts.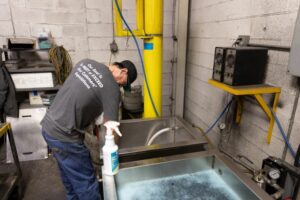 With Ultrasonic cleaning:
parts are cleaned with the mechanical scrubbing of the ultrasonic cleaner AND cavitation to increase the speed and intensity of the chemical reaction for a more effective clean;
contaminants left after machining processes are removed to create a part ready for assembly;
KVF uses eco-friendly components; and
we can assist you with meeting specific certification if necessary.
KVF Quad can help you meet these industry specifications:
1E2500D
1E2500E
1E2860
1E2500A
1E2860F
1E2500B
1E2860G
1E2860D
1E2500C
JDSG169
ML-1050
To learn more about Ultrasonic Cleaning at KVF Quad, check out our latest video.
Or head to our website.
If you're ready to talk to a parts cleaning specialist about your project, contact us at 309-755-1101 or sales@kvfquad.com.